Combat Curry Noodles.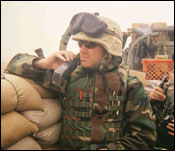 Me and my team of Marines* stormed and secured the UN Bldg in Baghdad on the morning of April 9th.......to find a huge commercial kitchen in the UN Cafeteria! Well, not to let an opportunity slip by, the next day when things quieted down, I took several of my Devil Dogs with me(as sous-chefs) to the kitchen and cooked up some awesome noodles for everyone.

This is a really easy and simple recipe, especially if you don't have to worry about someone shooting at you while you stir........
Combat Curry Noodles.
Fettucini
butter
garlic
curry(I used a sweet yellow. Didn't really have many options here.)
salt and pepper to taste
M-16 and three clips of 5.56 ammo
In a pot of water, boil some fettucini noodles till al dente.

Over medium heat, heat about 1/3-1/2 cup butter per pound of noodles.
When melted, add about a tablespoon of fresh minced garlic per 1/2 cup butter.
Lightly add some sweet yellow curry. Salt and pepper to taste.

Check your light discipline(red lens only) and have posted sentries check for security.

Strain noodles and add heated sauce. A light application of sauce is plenty if you don't want to add too much butter in your diet. Then again, if you were on 1 MRE a day for a couple weeks, go ahead and gorge yourself.

Serve immediately and review defensive fire plan sketches.

Of course, this is a much more comfortable meal in your own home when you aren't armed to the teeth. Enjoy.

*I'd be remiss if I didn't give another hearty thanks to my fellow Marines in Golf Company, 2/23 who helped keep me alive long enough so that I can get myself into yet more kinds of trouble.....